Bishop James Ocholla.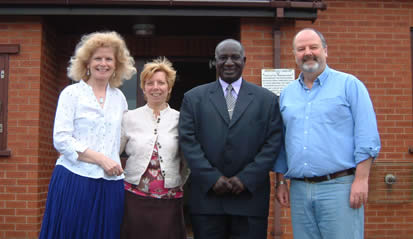 Bishop Ocholla spoke at the vine about Kenya, St James Academy and the 100 or so churches he oversees
Update August 2007 -
It is with a sense of Loss we heard Bishop James Ocholla passed on following an illness.
Everyone in The Vine Community Church joins with the family of Bishop James , remembering him with much love and sadness not be able to see him again in this present life . We look forward to seeing our dear brother again in the company of our Lord Jesus Christ . James enriched all of our lives with his wisdom and love ."
A celebration of the life and work of Bishop James can be found here
Bishop James Ocholla was from Kenya, where he oversaw 100 churches spread across the country. Bishop Ocholla came to speak at the Vine as part of the Glad Tidings Mission.